Definition of goals, priorities and creation of conditions for achieving goals
The necessarily very unsparing company analysis can lead to the most diverse results. It is quite possible that the company is in an absolutely critical liquidity situation, has to deal with the loss of customers and the disruption of supply chains. On the other hand, management could also come to the conclusion that the current business model is neither viable nor does it make the company distinctive, and that clear competitive advantages are missing to make it distinctive.
Without communicative measures, however, any corporate analysis is ineffective.
The results of the analysis should be made known not only to the management, its stakeholders, but if possible to all those involved in the analysis process and at least to all managers in the company. Absolute transparency is a must!
The first goal must be to create a common understanding of the company's current situation among all stakeholders. Only through transparency, the identification of perspectives, and the integration and communication of stakeholders and multipliers within the company is it possible to motivate people to take action to overcome the crisis and bring about change.
From the results of the company analysis, for example the corporate scan, clear goals, a target system for all areas should be derived immediately - which corresponds to a target/actual comparison - all goals should be measurable.
Prioritizations are to be made immediately, which result from the respective company situation.
Many immediate and short-term goals to be realized, also target systems aiming at a quick restart of the company and a short-term continuation perspective, can be summarized in a data cockpit. Essentially, it is a matter of adjusting the existing budget of the current fiscal year accordingly to current and realistic feasibility.
Short-term goals - realistic budget adjustments could include the following: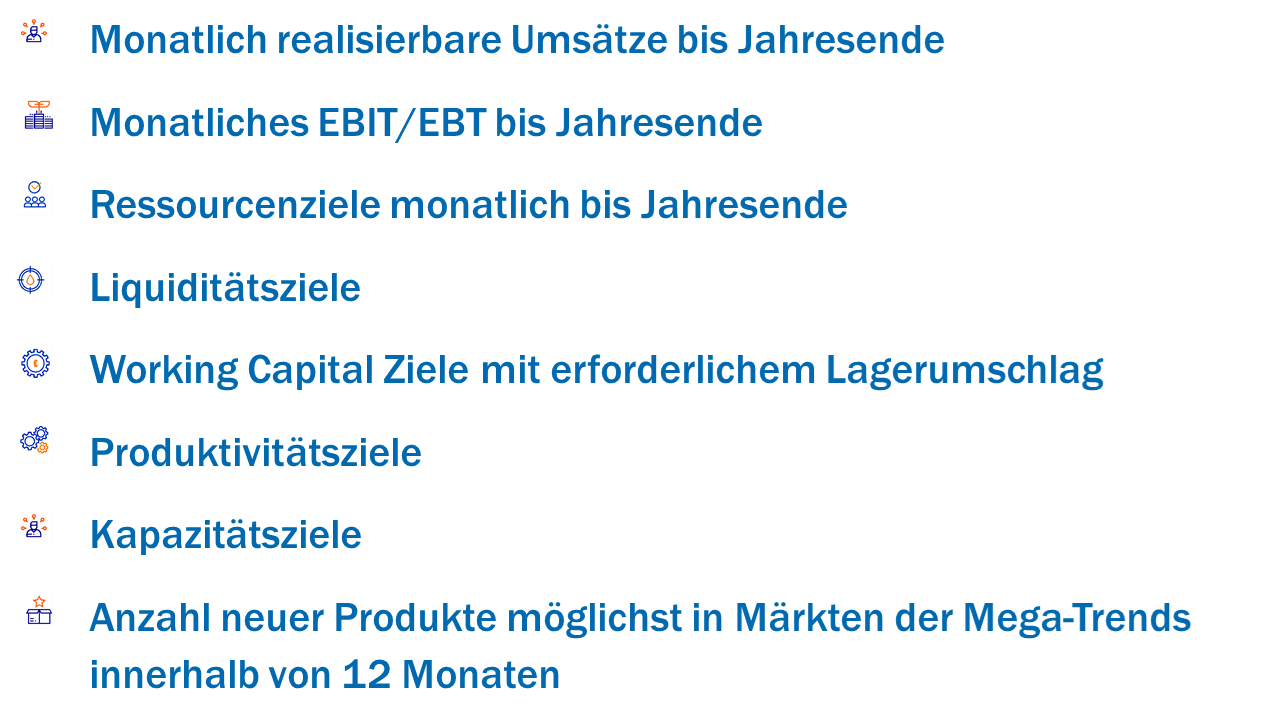 All short-term goals require CLEAR decisions and priorities. Only a management that is aware of responsibility and risk is prepared to make quick and clear decisions, especially in a crisis. If, for example, only a certain number of employees is needed for a certain turnover, consensual solutions must be found as quickly as possible. Basically, however, expected slumps on the sales side require drastic measures of a corporate restructuring.
An immediate and new target agreement process initiated by the management is necessary. New and ambitious targets with deadlines for a period starting immediately up to a maximum of 12 months have to be agreed with the clearly defined persons responsible, including the foreman level. This process is only successful if transparency, trust and a commitment culture have been established. Targets are best understood and committed to when they are jointly understood as necessary to overcome the crisis.
Ideally, all short-term goals are derived from the strategic goals. Better: These are derived from the strategic goals.