In addition to restoring urgent functionality that can be realized in the short term, Corona NOW also forces every company to think seriously about its future and long-term direction - only a strategic business transformation is indispensable in this regard.
Phase I - Comprehensive situation analysis
Key questions of Phase I are:
Where do we stand?
What are our current challenges and where are we positioned in the competition?
All answers require a ruthless analysis. The responsibility for this lies solely with the management and the respective division heads.
With the Corporate Scan developed by SEViX, there is a suitable instrument to make all functional areas and the internal and external performance of a company insightfully transparent according to the ideal value method and to directly determine measures to be implemented with deadlines and responsible persons. The Corporate Scan is a practical tool, it determines strengths and weaknesses, but at the same time it is also an instrument for the respective strategic positioning, by putting all results in respective relations to the best in class, to the strongest competitor,
Audited and scanned must be, in addition to the review of all current projects, especially the core functional areas such as sales, production, research and development - better innovation capability, finance and controlling, but especially strategy, leadership and organization.
In addition to assessing one's own situation in relation to the competition, the review of current functionality involves answering questions that enable solutions to be found for a rapid restart. The following questions could be answered as examples - without claiming to be exhaustive - with different priorities:
1. Do we need special crisis management for liquidity? Does it make sense to set up a cash office? Can we reduce inventories for cash in the short term?
2. how operational are our machines? How can we create a short-term production plan? Do we have an effective start-up plan?
3. are new manufacturing technologies required? Do we see opportunities for insourcing? Can we realign our machinery?
4. how long will individual stocks last? Do our internal and external logistics continue to make sense and perform?
5. does the supply chain of our suppliers still function or does it have to be rebuilt? What does the failure of individual suppliers mean? Can new suppliers be used how quickly with materials that are as similar as possible?
6. Where do our products stand in the product life cycle? How are the markets for our products developing? 7. 7. How innovative is our company? Are there patents and new products for which future markets? Can development times be reduced? How is digitalization progressing in the company?
8. how are we in contact with our customers and what is their current situation or are there any customer intrusions?
9. how can customer losses be compensated via potential new customers in market segments of the megatrends?
10. are new distribution channels fundamentally required?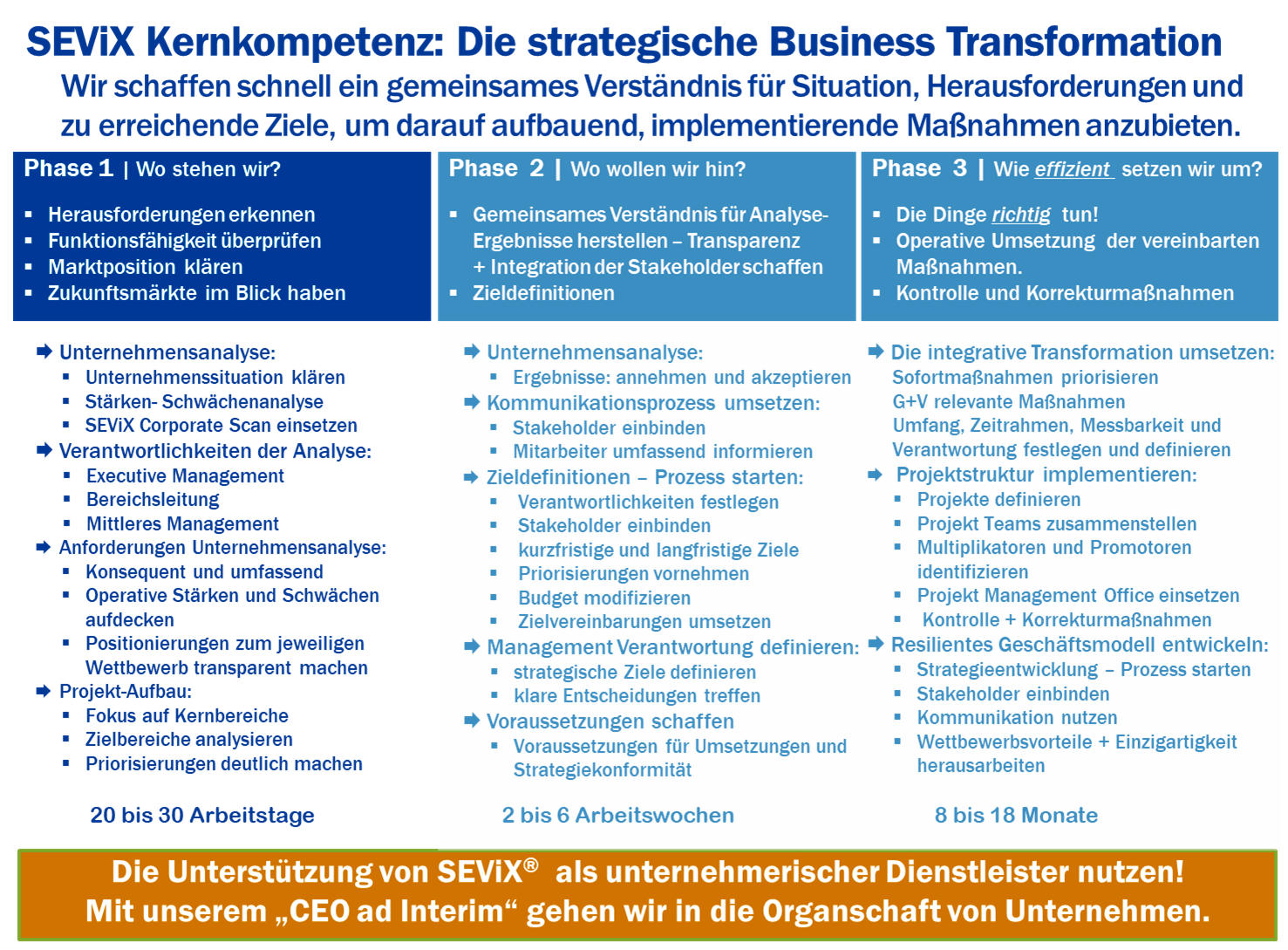 For all these questions, immediate solutions with measures and a respective classification against the competition are more than reasonable. It is important to anticipate competitive behavior in order to be able to define possible fields of action in a risk-minimizing manner.
The opportunity for a comprehensive strategic business transformation must not be missed
To ensure that the company does not stop at a short-term continuation perspective with the recovery of functional capability, the opportunity for a comprehensive strategic business transformation must not be missed. At the same time, questions about a long-term, effective strategy, management and organization must be asked and answered, which in turn can be as follows without claiming to be exhaustive:
1. what is your own competitive position?
2. are there competitive advantages to be exploited in the future? What makes the company unique from others?
3. are there future-proof products, services and resources for new target markets in the megatrends?
4. is the organization competitive and in line with the strategic direction?
Answering these and other strategic questions requires different tools and methods that go far beyond those of a normal turnaround.
Conclusion and thesis for Phase I:
Without a complete and unsparing analysis of all company areas, e.g. via the SEViX Corporate Scan, a restart with a continuation perspective is not possible. In addition to the restoration of an urgent functionality that can be realized in the short term, Corona NOW also forces every company to seriously think about its future and long-term orientation.
Management is responsible for conducting a strengths and weaknesses analysis (SWOT), which includes questions about strategy and market positioning. A strategic business transformation and the development of a resilient business model are essential for the sustainable future viability of the company.