In addition to restoring an urgent and short-term functionality, forces Corona now jedes Unternehmen auch dazu, ernsthaft über seine künftige und Long-term focus to think about. A strategic business transformation is indispensable here.
Phase III - Implementation of measures and projects and control
The consistent implementation of measures results from the company analysis, clear goals, target systems, the setting of priorities with the definition of clear responsibilities, deadlines and timelines. In crises, speed is always of the essence.
For the implementation of all relevant measures and their priorities, an action- and decision-making management alone the responsibility.
Often, the generation of necessary liquidity has the highest priority of all measures. Talks with the banks and immediate liquidity-generating measures such as reducing inventories or factoring and reducing receivables can be on the immediate agenda.
In addition, immediate P+L, profit and loss statement, influencing measures will have priority. Short-term sales targets can only be achieved with concrete measures to secure and influence sales. If customers are lost, the recovery of lost customers can be started immediately. A push for new customer acquisition or social media acquisition can be implemented as quickly as possible.
If input materials are no longer available due to the collapse of suppliers, replacement suppliers should be sought quickly. Rapid negotiations with suppliers also in the area of logistics make sense. Payment terms can be extended to reduce working capital in the short term.
Measures to reduce personnel costs are likely to be implemented immediately, although these are not expected to have an immediate impact on liquidity until later.
All of the above measures are typical measures in a crisis and are also likely to be applied in any classic restructuring.
However, the Corona crisis will also give rise to complex issues that have already become clear in the corporate analysis and that cannot be solved by immediate measures, but only by projects.
Projects are organizational structures specifically created for a fixed period of time, in which project teams develop concrete tasks, measures with planned results.
The development of a project structure and project organization based on the results of the analysis will be a fundamental prerequisite for making the company operational as quickly as possible and adapting it to changing market and competitive conditions. A project structure is therefore also an essential prerequisite for implementing the opportunity of a long-term effective strategic business transformation.
In principle, the immediate establishment of a PMO (Project Management Office) is recommended, under which all projects for changing the company should be arranged and structured according to functional areas such as sales, production, research and development or personnel. In addition to classic projects such as new customer acquisition or customer-win-back programs in sales, various lean projects in production or a new competitive costing scheme in controlling, clear Future projects be clearly defined. There is probably no way around projects with topics related to digitization or the generation of innovations in megatrend markets.
Strategy development is the original task of a strong management.
However, the central project in the area of leadership and organization must be strategy and corporate development. Without this core project, a strategic business transformation with the goal of a new long-term competitive and resilient business model cannot be achieved. Only through clear competitive advantages can the company be brought into a better market position. Strategy development is the original task of a strong management. It is recommended to look not backwards into the past, but forwards and to apply the ideal image method in doing so.
The original task of executive management also includes the development of an organization that fits the business model, the establishment of project teams and the definition of new employee profiles for the employees required for this. Only in this way can a culture of change be anchored in the long term. If the respective management is not able or willing to immediately start implementing a strategic business transformation that focuses on a radical reorientation in the crisis, even a strategy-experienced CEO ad interim be the solution.
Successful ways out of the crisis and strategic business transformations are always transparent. Through open communication, multipliers and employees are identified within the company who can and want to implement measures and projects on their own responsibility. If these resources are not sufficient, external help from competent interim managers should be sought immediately.
Fast and effective implementation of measures and projects requires permanent control. The question must constantly be asked: Where do we currently stand? Progress with measures and projects is only achieved if, for example, their status is presented every 14 days at meetings of the Project Management Office, which should be as public as possible. If, for example, project milestones are not met, immediate corrective action must be taken. Target agreements only make sense if regularly scheduled control meetings take place.
Ultimately, those responsible must also be consistently replaced if they feel overwhelmed with the implementation.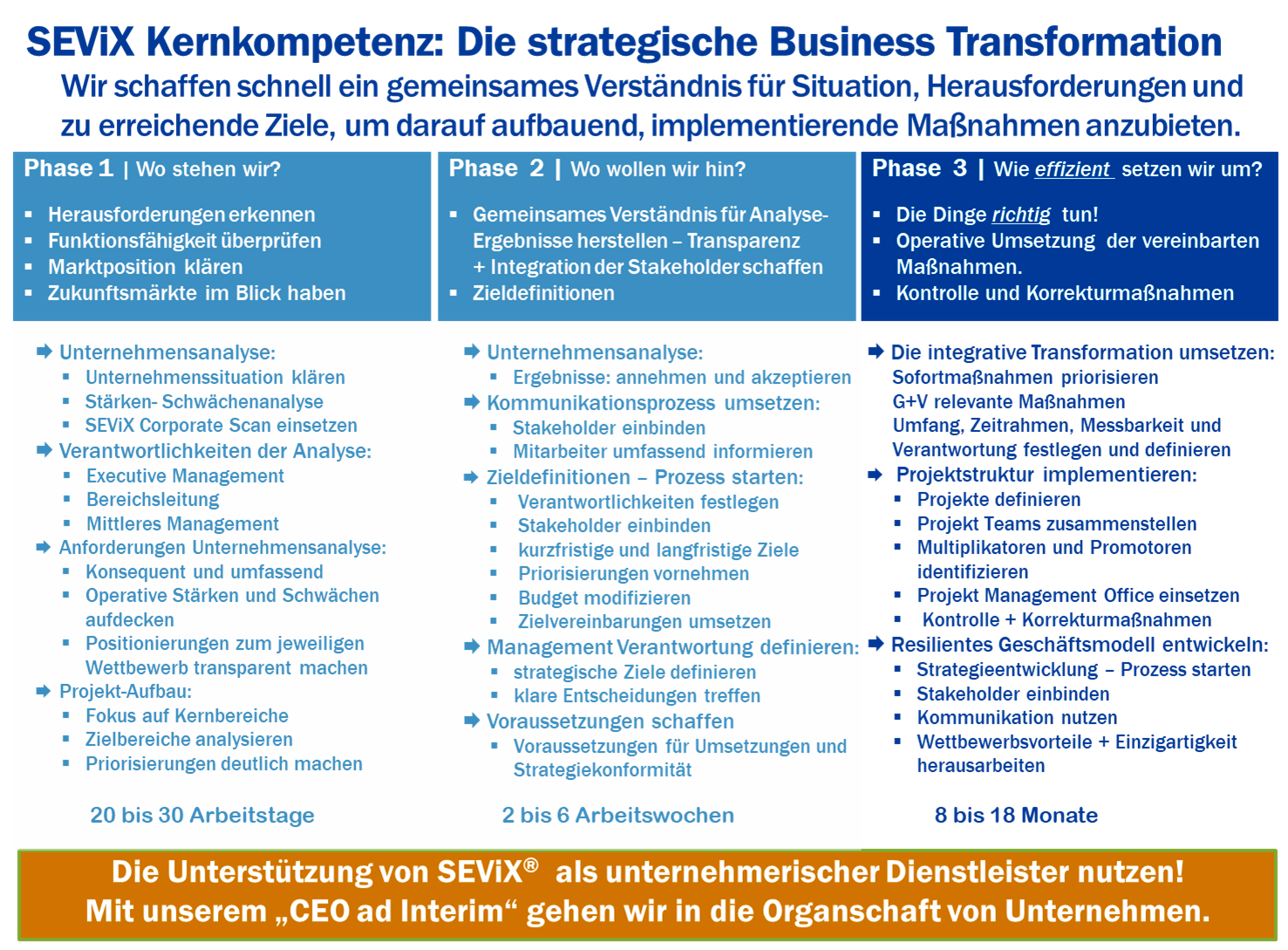 Corona offers a unique opportunity to give every company a continuation perspective, which should be combined and extended with a strategic business transformation.  Strategic business transformation also draws on classic and familiar turnaround measures such as staff reductions, cutting loss-makers or streamlining the product and customer portfolio. However, it goes far beyond this with the development of a competitive new business model.
Conclusion and Theses for Phase III:
It comes down to strong management that excels in decision-making and strategic competence. The strategist must understand the internal capabilities of his or her organization.  A realistic self-assessment enables the organization to leverage its strengths and address weaknesses.  The strategy must educate the entire organizational team on how to leverage carefully identified competitive advantages to compete and win.
Only a resilient business model creates a future. Short-term measures must be prioritized and consistently implemented. Complex issues are solved by defining projects. A project management office is a suitable implementation structure that also focuses on future projects.
Employee autonomy is an essential component of success - multipliers and promoters are required.
Effective control of all measures is useful and necessary-.
CEO ad Interim is the alternative solution in leading out of the crisis.